IT Remarketing with Synerlogis
Reuse your used IT. Sustainable. Data protection compliant. Trustworthy!
What advantages do you have?
Our service. How does IT remarketing work with Synerlogis?
Advising, planning and accepting IT hardware
IT remarketing is a process that involves the recovery or recycling of information technology equipment such as routers, computers, laptops, mobile phones and printers. However, before you commit to the idea of IT remarketing your IT hardware, you should first talk to us to find out if your hardware is even suitable for IT remarketing.
Processing, recycling, disposal of IT
We test the hardware and bring it to as-new condition. In the process, we carry out a thorough cleaning. We immediately dispose of electrical appliances that are no longer functional. We also recycle your e-waste reliably, quickly and in accordance with the law. Disposal is carried out in accordance with the requirements of the Closed Substance Cycle Waste Management Act.
Secure deletion of your data from the IT devices
We delete your data securely and reliably. To do this, we use certified procedures with which you can be sure that your sensitive customer data will not fall into the wrong hands. So you can concentrate fully on your business and don't have to worry.
Refurbishing: Refurbishing by Synerlogis
Thanks to our extensive experience in repairing IT hardware, we can offer the high-quality end devices at a reasonable price. By regularly testing all devices, we ensure that they work flawlessly and that there are no quality problems with them. Thus, they are ready for reuse.
These companies already trust us
It is a fact that many companies do not reuse their IT hardware. Although this hardware is expensive and can be saved by reusing it, it is often disposed of or sold. However, this behaviour is wrong, as there are many advantages to remanufacturing hardware through IT remarketing instead of disposing of or selling it.
For one thing, it can be costly to buy new IT hardware. Therefore, it is better to reuse the old hardware. For another, there are studies that show that 75% of companies report that the quality of their production processes has been improved through IT remarketing.
The stock of IT equipment is increasing rapidly worldwide. In Germany, more than six million tonnes of electronic waste are produced annually, and the trend is rising. Synerlogis wants to counteract this problematic trend and focuses on the reuse of hardware with the concept of IT remarketing.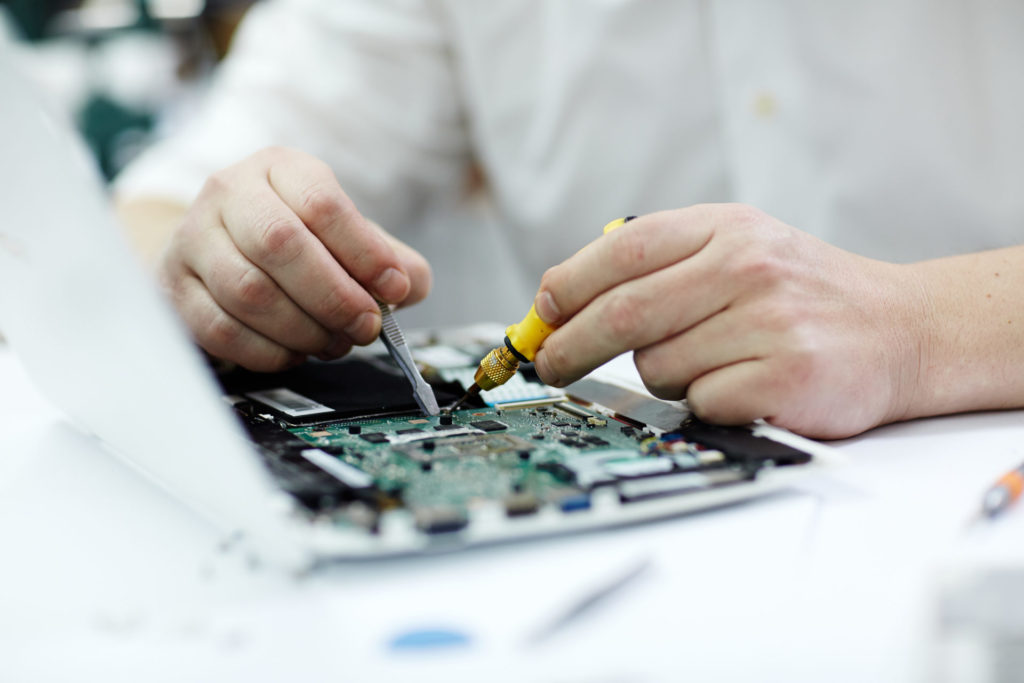 What is IT Remarketing?
IT remarketing is the reconditioning and marketing of used IT hardware. In the process, the hardware is thoroughly overhauled and brought up to date. It is then offered at a significantly reduced price.
Interested? Get a quote now!
The concept is simple: used but still functional IT equipment is accepted by Synerlogis as a service, checked and then put back on the market. In this way, the lifespan of the equipment can be extended and e-waste reduced. At the same time, customers are given the opportunity to purchase high-quality hardware at a fair price.
But IT remarketing is not only environmentally friendly, it also has economic advantages. Synerlogis calculates an average cost saving of 30 to 50 percent compared to buying new hardware. In addition, there are the indirect cost benefits of avoiding electronic waste and reducing the consumption of resources.
IT remarketing is therefore both environmentally friendly, in the sense of Green IT and the Circular Economy, and economically sensible. And the best thing is: everyone can contribute to avoiding e-waste and protecting the environment – by simply passing on their old hardware to Synerlogis!
Furthermore, we help companies to find suitable buyers for their old systems and thus enable their reuse. In this way, unnecessary resource allocations can be avoided and the environment is protected at the same time.
Conclusion: Why IT remarketing of your hardware is a good investment
For companies, it is also a beneficial solution not only to save costs but also to minimise the risks associated with the use of insecure hardware. By using Synerlogis solutions, companies can ensure that their IT inventory is in good condition and meets all data protection and security requirements. With Synerlogis' professional advice and support, a company can budge its hardware more efficiently and reduce maintenance costs.
Synerlogis also offers services for dealing with older hardware. The company offers its customers tools and technology to recycle or dispose of older hardware safely and efficiently. As a result, clients do not have to worry about unexpected costs, as Synerlogis covers all aspects of the process.
IT remarketing is therefore a beneficial solution for many businesses – from start-ups to established companies – as it offers cost-saving opportunities while reducing the risk of using unsafe hardware. With Synerlogis' comprehensive solution for IT remarketing, companies can optimise their inventory management while saving time and money.
Have we aroused your interest?
Please fill out the form. We will get back to you as soon as possible.
+49 (0) 431 / 3821 76 – 0
office@synerlogis.com
Am Jägersberg 16, 24161 Altenholz near Kiel