What advantages do companies have when they work with a refurbisher?
By working with a refurbisher, companies can save a lot of money when recycling old electrical appliances. By using reconditioned appliances, repair costs can be avoided and materials can be recycled.
In addition, above-average quality standards can be achieved, as all parts of the appliance are thoroughly tested and checked before sale.
This gives companies the opportunity to offer their customers high-quality products and save resources at the same time. All our remanufactured equipment comes with a warranty, so you can be sure that you are getting high quality products.
This way, you benefit from second-hand equipment, but you can still be sure that you are protected by the warranty.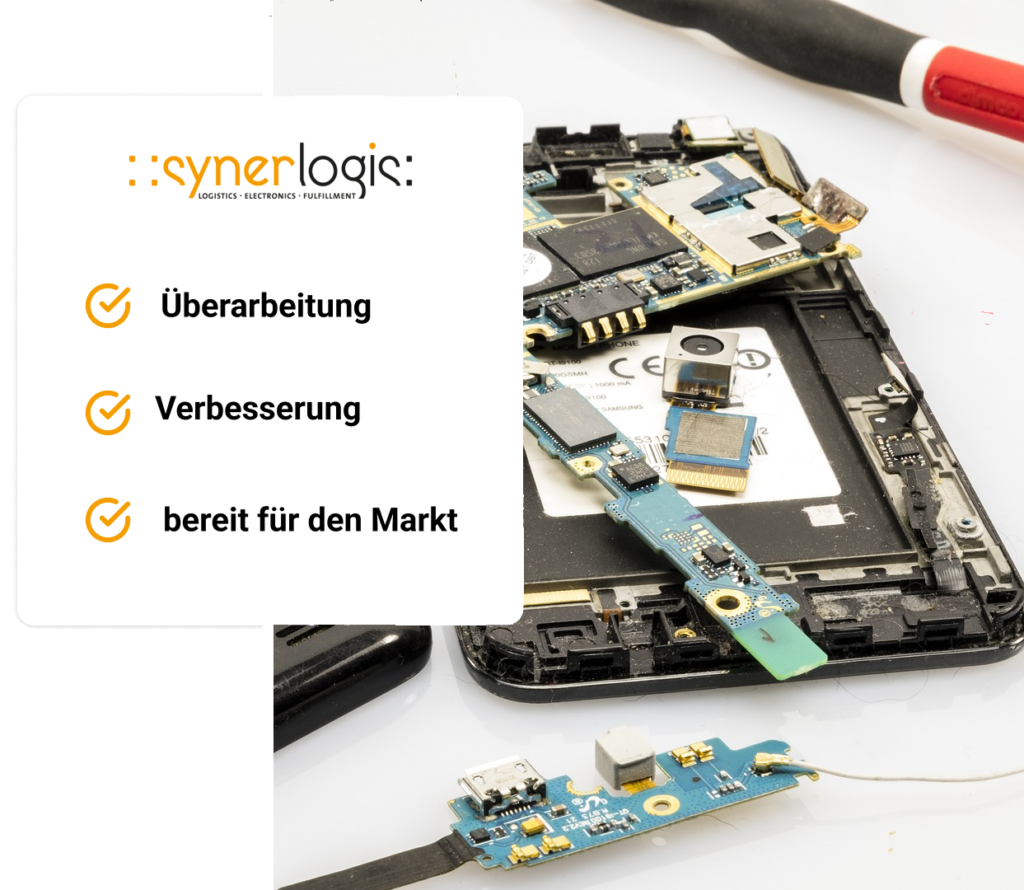 What does a refurbisher do?
A refurbisher repairs, cleans and overhauls used, electronic equipment. Refurbishment also includes replacing worn parts, restoring the factory settings for the software and repackaging the product. Removing old software and adding new software is also part of the process.
We refurbish. Get a quote now!
Refurbishers represent a new way of recycling. This technology specialises in refurbishing electronic devices to repair, upgrade and reuse them. The idea behind refurbishing is to minimise the use of resources while extending the life of electronic equipment. With us, you can refurbish old devices and save them from being thrown away!
We use professional techniques and tools to refurbish old equipment. First, we examine your device to determine if it needs to be repaired or upgraded. Then we can replace spare parts, check the appliance and finally ensure that it is fully functional.
The aim is to reduce e-waste and protect the environment at the same time. Since we do not have to invest in new products, you can save money. Furthermore, we enable you to reuse your old equipment and thus contribute to the sustainable use of resources. Synerlogis as a refurbisher facilitates the reuse of electronic equipment and more efficiently than ever before. This means less waste in the waste system and more respect for the environment. It is easier than ever for your business and consumers to reuse older equipment or pass it on to others – further increasing cost savings. In this way, we offer a good solution for all parties involved: consumers save money and protect the environment at the same time.
How does this method work?
What happens to the electrical appliances?
The refurbisher starts by assessing the appliance and then decides what to do with it. If it still works well, the device can be repaired and refurbished to offer it to the customer in accordance with the manufacturer's specifications. Often, the refurbisher also cleans the exterior to remove possible scratches or other signs of use.
If the unit is in need of repair, it is partially or completely disassembled and new parts are installed. Sometimes the refurbisher may also replace different components to achieve a better result.
Who can benefit from the new method?
In recent years, the topic of recycling has become increasingly important. Many companies and organisations are committed to the environment and try to minimise the impact of their products and services on the environment.
For companies that want to recycle their old equipment, working with a refurbisher is an interesting way to save costs and do something good for the environment at the same time. Because the more products we recycle, the fewer raw materials have to be newly extracted. This not only saves resources, but also energy and CO2 emissions.
Have we aroused your interest?
Please fill out the form. We will get back to you as soon as possible.
+49 (0) 431 / 3821 76 – 0
office@synerlogis.com
Am Jägersberg 16, 24161 Altenholz near Kiel